Inspired by my travels and the need to feel comfortable yet still attractive, I set out to create a range of versatile swimwear.
Taking a cue from the shapes and feel of underwear basics, the Half Baked range is as easy to wear on the beach as it is paired with your favourite jeans.
I wanted to make pieces that make women feel Good. Comfortable. Confident. The pieces are made to last and I hope that they will be a staple in your wardrobe.
Designed in London & made in the UK & Europe using the softest, lightweight quality fabric, with UV protection which is kind to your skin.
Ease, sensuality, versatility, modernity. Half Baked is for us to wear as our second skin - confidently and fearlessly.
- Kim, Founder & Designer
OUR FOUNDER
Half Baked was founded after founder Kim struggled to find her ideal swimsuit at a price that was affordable for her. Making do, she would pair bikini tops with knickers and bikini briefs with hand cut vest tops as what she could find at the time just didn't offer both the comfort and quality she was looking for.. 
It wasn't ideal coming out of the pool dripping wet and waiting double as long for her make-shift bikini to dry! With this she decided to design a small collection on her breaks at work, at night in bed and anywhere she could find a spare minute. The top priority was finding a fabric that felt like you were wearing underwear as she always felt most comfortable in her undies. 
After 2 years of research and sampling Half Baked was born. 
"My mission is to create pieces that evoke a good feeling when you wear them. Even after years of wearing the same suit, I feel something when I put it on – I feel I'm wearing something special."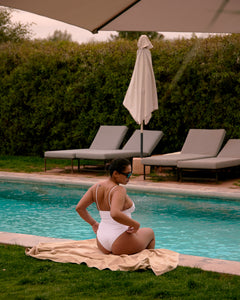 OUR VALUES
Half Baked proudly works with a small family run factory. We pride ourselves on working with ethical manufacturers. Producing quality is a top priority and much time was spent finding our signature fabric which feels great against your skin. 
Our pieces are designed to flatter your natural body shape with comfort in mind. We make pieces that last and hope they will be loved by you for years to come.
We are proud to work with small family run factories and pride ourselves on working with ethical manufacturers.
We're not just a swimwear brand, we are also a community and our community's needs are so important to us.
Reducing waste is also important to us. This is why we are repurposing our fabric cut offs to make hair accessories where we can.